Home
> TimeLine Auctions: East Horndon Legends
---
Back to previous page
EAST HORNDON LEGENDS
There are two legends recorded concerning the church. The first, allegedly from the 13th century, tells of a terrifying dragon which escaped from a foreign ship on the River Thames and took up residence in the local woods between Heron Hall and the church. A local knight, Sir James Tyrell, undertook to deal with the threat. He armed himself and overcame the beast but died of his exertions.
East Horndon Church & Anne Boleyn's Heart
"Thus perished Anne Boleyn at the age of thirty-six, an example of the fleeting favour of Princes... Others assert that her corpse was interred at East Horndon, in Essex, and a black marble monument is pointed out as the place of sepulture. It is so short that some have thought it may have contained only her head or heart."

-Benton, 1888
Horndon was a prominent Essex locale from the 15th century onwards; the letters of Henry VIII mention it eight times, noting in May 1534 that Horndon and its church were 'in the gifte of the Abbess of Barkynge', and in 1539 that East Horndon sent eight 'bowmen and billmen' to the King's army.

Henry's second wife, Anne Boleyn, Queen of England and Marquise of Pembrokeshire, was beheaded at the Tower of London on the 19th of May 1536, after having been found guilty of treason, adultery and incest. Accounts, also in Henry's letters, describe Anne's burial alongside her brother within the walls of the Tower, in the church of St. Peter ad Vincula. Shortly after her death, however, rumours about the whereabouts of her heart, and even her body, began to spread. One of the most prevalent was that Anne's inner circle of family and attendants had secretly removed her body from St. Peter's in order to convey it by night to the Boleyn family home of Blickling Hall in Norfolk. En route, they passed through the village of East Horndon where they rested, and decided to bury Anne's heart in the church of All Saints, marking the spot with a small slab of black marble. The church, a red-brick edifice erected in the 15th century by the local Tyrell family, stands on a ridge overlooking what was, in the 16th century, the main London-Prittlewell (Southend today) road, the primary thoroughfare of the area. All Saints would indeed have served as a convenient resting-placeforwearytravellers.

Heart burial was a relatively common practice during the medieval period. Although it had largely fallen out of use by the time of Anne's execution, it persisted across Europe until the 19th century. Also worthy of note is the fact that the Boleyn family had Essex connections as Anne's brother George, with whom she was tried, executed and buried, was the 2nd Viscount Rochford (as in the present-day Rochford Hundred). His manor house, Rochford Hall, lay at the easternmost end of the London-Prittlewell route, and remained home to his wife Jane, Viscountess Rochford. Perhaps Anne's entourage was planning to stop there before heading north towards Blickling?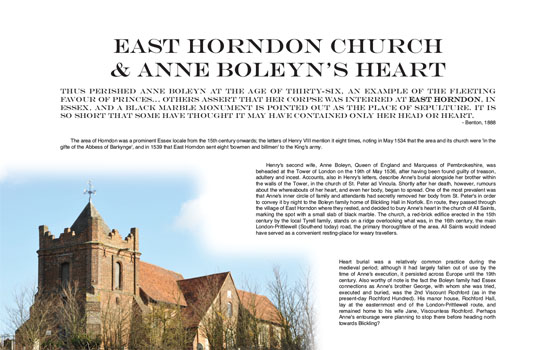 The second legend concerns Anne Boleyn, second wife of King Henry VIII, whose heart is said to have been cut out and buried beneath a black marble slab at All Saints Church.
Sir James Tyrrell & The 'East Horndon Dragon'
Sir James Tyrell (born 1450, died 1502) was an advisor and close confidante of King Richard III, serving in the king's inner circle as Master of the Horse. Sir James was a scion of the aristocratic Tyrell family, who had their seat at Heron Hall in East Horndon. The family had long been involved in politics at the highest level; his grandfather, Sir John Tyrell, had been Knight of the Shire for Essex; his father, Sir William, had been beheaded in 1462 alongside John de Vere, 12th Earl of Oxford, apparently on charges of high treason.

A prominent local legend tells of Sir James's slaying of the so-called 'Horndon Worm', a 'dragon' that had terrorized the local population. The creature, described as huge, green and covered in scales, had apparently escaped from a ship docked on the Thames, possibly at Grays Thurrock, and found its way inland, where it made its home in the churchyard of All Saints, East Horndon. The Tyrell family had close ties with this church, it having been rebuilt and extended by Sir James's uncle, Sir Thomas Tyrell. When the parish priest appealed for someone brave enough to slay this beast, Sir James stepped forward and, after a long struggle, beheaded the much-feared 'worm'.

The legend was recorded in 1695, some 193 years after Sir James' death, by his descendent John Tyrell of Billericay. According to this account, 'The merchants of Barbary having brought home a serpent in a ship, which lay upon the Thames, within twelve miles of Heron, which escaping out of the ship, lived and haunted about those woods, 'twixt Heron and Horndon Parish Church, devouring such passengers as came that way, which made the country seek redress from Sir James Tyrell, a great man in those parts.''

After arming himself and confusing the creature with a large mirror, Sir James, 'taking his best advantage, struck the serpent and slew it, cut off its head, and carried it to his wife's bedside before she arose in the morning.' However amused Lady Tyrell may have been by her husband's gift, she was soon to be left bereft, since '[Sir James] so overheated himself with his combat, that he shortly after died, and his son coming that way where the serpent's bones lay, spurned one of them, saying "This is the bone of the serpent that was the death of my father", but the bone piercing the summer shoe, so hurt his toe, which gangrened, and his leg was cut off at the knee.' The window at Heron Hall which depicts a one-legged man, was created soon afterwards.

During the medieval period, it became increasingly popular for the upper echelons of society to keep exotic pets, imported from across the known world, a trend inspired by and reflected in the popularity of bestiaries and books depicting real and mythical animals. The Tower of London itself had a huge and popular menagerie that remained active until the early 19th century. It is possible that Sir James really did kill a terrifying creature - perhaps a snake or large reptile that had escaped from a ship's hold.